2010 Dodge Ram SLT 2500 Pickup
View Full Size Photos
66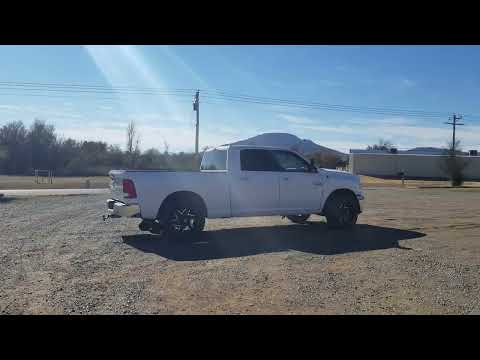 86 bids
A 8% Buyer's Premium will be added to the final Sales Price. All applicable taxes will be assessed based on the sum of the sales price and buyer's premium.
Completed
2010 Dodge Ram SLT 2500 Pickup
Inventory Number: GPA00308
Pickup:

2010

Dodge Ram SLT 2500

VIN: 3D7TP2CL4AG125371

2WD

Miles: 242,235

HD LUXXX Rims

After Market Trailer Break Controller

Helper bags w/ 12 volt electric pump & load gauge in cab

B&W Turnover ball 2 5/16

Heat/A/C

Newer Rear End has 80,000 Miles on it

Tires 33x12.50r20

U joints recently replaced

4 inch exhaust pipe w/ 8in. Tip

Electric Windows & Locks

After Market Radio

Cloth Interior

Engine:

6.7L Diesel

50hp Injectors

S&B Cold Air Intake & Manifold

Deleted & Tuned

No Blow by

New Motor w/ Studded Head Installed At 178,585 Miles

Transmission:

New Transmission was installed at 135,485 Miles
---
Lot Documents
DISCLAIMER:
Great Plains Auction explicitly disclaims any responsibility or liability for the condition, quality, or any other aspect related to livestock or equipment sold at our auctions. All transactions are conducted at the buyer's own risk, and we encourage thorough inspections before making any purchases. Great Plains Auction acts solely as a platform for buyers and sellers, and any issues or concerns arising from the sale of livestock or equipment are the sole responsibility of the involved parties. Participants are advised to exercise due diligence and make informed decisions during the auction process.
Seller
James Porter
Lawton, Oklahoma 73507
United States
Email:
jporter.fairwindllc@gmail.com
Bid Increments
| From Amount | Up To | Bid Increment |
| --- | --- | --- |
| --- | $1,000.00 | $10.00 |
| $1,000.00 | $10,000.00 | $100.00 |
| $10,000.00 | $50,000.00 | $500.00 |
| $50,000.00 | $9,999,999.00 | $1,000.00 |
Bid History
Date/Time
Bidder
Winning Bid
5023 (Oklahoma)
$15,000.00

Top Bid

5433 (Oklahoma)
$14,500.00
5023 (Oklahoma)
$14,000.00
5433 (Oklahoma)
$13,500.00
5023 (Oklahoma)
$13,000.00
5433 (Oklahoma)
$12,500.00
5023 (Oklahoma)
$12,000.00
5433 (Oklahoma)
$11,500.00
5023 (Oklahoma)
$11,000.00
3357 (Oklahoma)
$10,500.00
5023 (Oklahoma)
$10,000.00
5433 (Oklahoma)
$10,000.00
5023 (Oklahoma)
$9,900.00
5433 (Oklahoma)
$9,800.00
5023 (Oklahoma)
$9,700.00
3357 (Oklahoma)
$9,600.00
5023 (Oklahoma)
$9,500.00
3357 (Oklahoma)
$9,400.00
5023 (Oklahoma)
$9,300.00
3357 (Oklahoma)
$9,200.00
5023 (Oklahoma)
$9,100.00
5433 (Oklahoma)
$9,000.00
6066 (Arkansas)
$8,900.00
5433 (Oklahoma)
$8,600.00
5273 (Oklahoma)
$8,500.00
5273 (Oklahoma)
$8,000.00
5433 (Oklahoma)
$7,900.00
5273 (Oklahoma)
$7,800.00
5433 (Oklahoma)
$7,700.00
5273 (Oklahoma)
$7,600.00
6012 (Oklahoma)
$7,500.00
5273 (Oklahoma)
$7,200.00
6012 (Oklahoma)
$7,100.00
5273 (Oklahoma)
$7,000.00
6012 (Oklahoma)
$7,000.00
5273 (Oklahoma)
$6,100.00
6012 (Oklahoma)
$6,000.00
5273 (Oklahoma)
$5,700.00
6012 (Oklahoma)
$5,600.00
5273 (Oklahoma)
$5,500.00
6012 (Oklahoma)
$5,400.00
5273 (Oklahoma)
$5,300.00
5355 (Oklahoma)
$5,200.00
5355 (Oklahoma)
$4,100.00
6012 (Oklahoma)
$4,000.00
5355 (Oklahoma)
$3,900.00
6012 (Oklahoma)
$3,800.00
5355 (Oklahoma)
$3,700.00
6012 (Oklahoma)
$3,600.00
5355 (Oklahoma)
$3,500.00
5381 (Texas)
$3,400.00
5355 (Oklahoma)
$3,300.00
5381 (Texas)
$3,200.00
5355 (Oklahoma)
$3,100.00
5233 (Oklahoma)
$3,000.00
5355 (Oklahoma)
$2,900.00
5233 (Oklahoma)
$2,800.00
5355 (Oklahoma)
$2,700.00
5233 (Oklahoma)
$2,600.00
5211 (Oklahoma)
$2,500.00
5233 (Oklahoma)
$2,400.00
5211 (Oklahoma)
$2,300.00
5003 (Oklahoma)
$2,200.00
5211 (Oklahoma)
$2,000.00
5003 (Oklahoma)
$1,900.00
5211 (Oklahoma)
$1,800.00
5247 (Oklahoma)
$1,700.00
5211 (Oklahoma)
$1,600.00
5206 (Oklahoma)
$1,500.00
5211 (Oklahoma)
$760.00
5205 (Texas)
$750.00
5211 (Oklahoma)
$610.00
5205 (Texas)
$600.00
5211 (Oklahoma)
$510.00
5205 (Texas)
$500.00
5211 (Oklahoma)
$450.00
5205 (Texas)
$440.00
5211 (Oklahoma)
$430.00
5205 (Texas)
$420.00
5211 (Oklahoma)
$410.00
5205 (Texas)
$400.00
5206 (Oklahoma)
$300.00
5206 (Oklahoma)
$260.00
5205 (Texas)
$250.00
5206 (Oklahoma)
$60.00
5205 (Texas)
$50.00