View Full Size Photos
103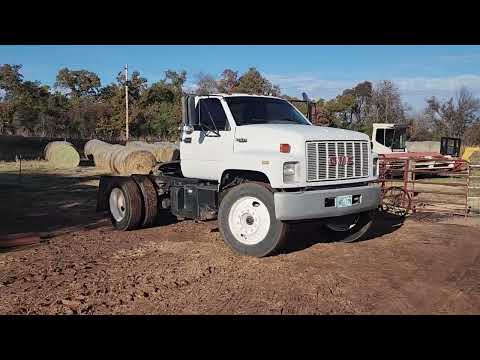 69 bids
A 8% Buyer's Premium will be added to the final Sales Price. All applicable taxes will be assessed based on the sum of the sales price and buyer's premium.
Completed
1990 GMC Top Kick Truck
Inventory Number: GPA00425
Truck:

VIN: 1GDM7H1J8LJ607437

202,542 Miles Showing

Air Brakes

Leaf Spring Suspension

Fixed 5th Wheel

Trailer Air Brake Handle

Manual Windows

Heat

Aftermarket Air Conditioning

New Front Tires

285/75R24.5 Tires

B&W Turnover 2 5/16 Gooseneck Ball W/ Chain Hooks

Trailer Air Brake Hoses and Wiring

7 Way Trailer Light Plug

Electronic Brake Controller in Cab
Engine:

CAT 3116 DI-TA

215 HP

Serial: 7HJ04204

Diesel

6 Cylinder

Turbo
Transmission:

Eaton

6 Speed Manual

Chelsea PTO
---
Lot Documents
DISCLAIMER:
Great Plains Auction explicitly disclaims any responsibility or liability for the condition, quality, or any other aspect related to livestock or equipment sold at our auctions. All transactions are conducted at the buyer's own risk, and we encourage thorough inspections before making any purchases. Great Plains Auction acts solely as a platform for buyers and sellers, and any issues or concerns arising from the sale of livestock or equipment are the sole responsibility of the involved parties. Participants are advised to exercise due diligence and make informed decisions during the auction process.
Seller
Kory Huck
15041 county Road 1320
Fort Cobb, Oklahoma 73038
United States
Email:
huckkory@gmail.com
Bid Increments
| From Amount | Up To | Bid Increment |
| --- | --- | --- |
| --- | $1,000.00 | $10.00 |
| $1,000.00 | $10,000.00 | $100.00 |
| $10,000.00 | $50,000.00 | $500.00 |
| $50,000.00 | $9,999,999.00 | $1,000.00 |
Bid History
Date/Time
Bidder
Winning Bid
5612 (Missouri)
$9,900.00

Top Bid

3357 (Oklahoma)
$9,800.00
5612 (Missouri)
$9,700.00
3357 (Oklahoma)
$9,600.00
5612 (Missouri)
$9,500.00
3357 (Oklahoma)
$9,400.00
5612 (Missouri)
$9,300.00
3357 (Oklahoma)
$9,200.00
5612 (Missouri)
$9,100.00
6009 (Oklahoma)
$9,000.00
3357 (Oklahoma)
$8,900.00
6009 (Oklahoma)
$8,100.00
3357 (Oklahoma)
$8,000.00
6009 (Oklahoma)
$8,000.00
3357 (Oklahoma)
$7,900.00
6009 (Oklahoma)
$7,800.00
3357 (Oklahoma)
$7,700.00
6009 (Oklahoma)
$7,600.00
3357 (Oklahoma)
$7,500.00
6009 (Oklahoma)
$7,500.00
3357 (Oklahoma)
$7,400.00
6009 (Oklahoma)
$7,300.00
3357 (Oklahoma)
$7,200.00
6009 (Oklahoma)
$7,100.00
5612 (Missouri)
$7,000.00
6009 (Oklahoma)
$7,000.00
5612 (Missouri)
$6,900.00
6009 (Oklahoma)
$6,800.00
5612 (Missouri)
$6,700.00
6009 (Oklahoma)
$6,600.00
5612 (Missouri)
$6,500.00
6009 (Oklahoma)
$6,400.00
5612 (Missouri)
$6,300.00
6009 (Oklahoma)
$6,200.00
5612 (Missouri)
$6,100.00
6009 (Oklahoma)
$6,000.00
5612 (Missouri)
$6,000.00
6009 (Oklahoma)
$5,600.00
5612 (Missouri)
$5,500.00
6009 (Oklahoma)
$4,400.00
5612 (Missouri)
$4,300.00
6009 (Oklahoma)
$4,200.00
5168 (Oklahoma)
$4,100.00
3357 (Oklahoma)
$4,000.00
3357 (Oklahoma)
$3,700.00
6009 (Oklahoma)
$3,600.00
3357 (Oklahoma)
$3,500.00
6009 (Oklahoma)
$3,500.00
3357 (Oklahoma)
$3,400.00
6009 (Oklahoma)
$3,300.00
3357 (Oklahoma)
$3,200.00
6009 (Oklahoma)
$3,100.00
3357 (Oklahoma)
$3,000.00
5597 (Oklahoma)
$2,900.00
6009 (Oklahoma)
$2,800.00
5168 (Oklahoma)
$2,700.00
6009 (Oklahoma)
$2,700.00
5168 (Oklahoma)
$2,600.00
3357 (Oklahoma)
$2,500.00
5168 (Oklahoma)
$2,500.00
3357 (Oklahoma)
$2,100.00
5456 (Oklahoma)
$2,000.00
3357 (Oklahoma)
$2,000.00
5456 (Oklahoma)
$1,300.00
5032 (Oklahoma)
$1,200.00
5032 (Oklahoma)
$1,100.00
5201 (Oklahoma)
$1,000.00
5007 (Oklahoma)
$1,000.00
5201 (Oklahoma)
$10.00