2009 GMC 2500 4x4 Crew Cab Pickup Truck
View Full Size Photos
123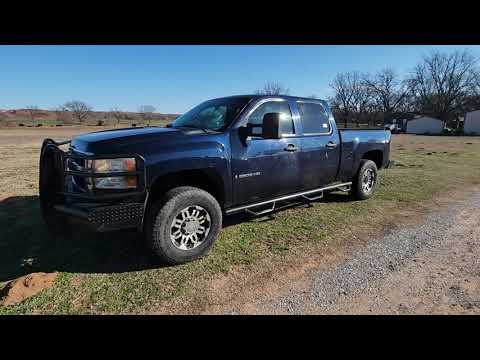 102 bids
A 8% Buyer's Premium will be added to the final Sales Price. All applicable taxes will be assessed based on the sum of the sales price and buyer's premium.
Completed
2009 GMC 2500 4x4 Crew Cab Pickup Truck
Inventory Number: GPA00626
Pickup:
2009
GMC 2500 Crew Cab
4x4
Miles: 306,768
VIN: 1GCHK43K29F109216
Front Bench Seat
Cloth Interior
Integrated Trailer Brake Control
Power Windows & Locks
LT285/70R17 Tires
Aftermarket Wheels (Vision) Brand
Steel Step Rails
Ranch Hand Full Front Bumper Replacement
Engine:
6.0L Vortec Gas
Newer Engine Installed 6-15-22
Newer Engine Had Existing 123,000 miles When Installed
Contents Not Included
---
DISCLAIMER:
Great Plains Auction explicitly disclaims any responsibility or liability for the condition, quality, or any other aspect related to livestock or equipment sold at our auctions. All transactions are conducted at the buyer's own risk, and we encourage thorough inspections before making any purchases. Great Plains Auction acts solely as a platform for buyers and sellers, and any issues or concerns arising from the sale of livestock or equipment are the sole responsibility of the involved parties. Participants are advised to exercise due diligence and make informed decisions during the auction process.
Seller
Randy Thomas
, Oklahoma
United States
Bid Increments
| From Amount | Up To | Bid Increment |
| --- | --- | --- |
| --- | $1,000.00 | $10.00 |
| $1,000.00 | $10,000.00 | $100.00 |
| $10,000.00 | $50,000.00 | $500.00 |
| $50,000.00 | $9,999,999.00 | $1,000.00 |
Bid History
Date/Time
Bidder
Winning Bid
5442 (Oklahoma)
$7,700.00

Top Bid

3357 (Oklahoma)
$7,600.00
5017 (North Carolina)
$7,500.00
3357 (Oklahoma)
$7,400.00
5017 (North Carolina)
$7,300.00
3357 (Oklahoma)
$7,200.00
5017 (North Carolina)
$7,100.00
3357 (Oklahoma)
$7,000.00
5017 (North Carolina)
$6,900.00
3357 (Oklahoma)
$6,800.00
5442 (Oklahoma)
$6,700.00
3357 (Oklahoma)
$6,600.00
5017 (North Carolina)
$6,500.00
3357 (Oklahoma)
$6,400.00
5017 (North Carolina)
$6,300.00
5442 (Oklahoma)
$6,200.00
3357 (Oklahoma)
$6,100.00
5017 (North Carolina)
$6,000.00
3357 (Oklahoma)
$5,900.00
5017 (North Carolina)
$5,800.00
3357 (Oklahoma)
$5,700.00
5017 (North Carolina)
$5,600.00
3357 (Oklahoma)
$5,500.00
5017 (North Carolina)
$5,400.00
3357 (Oklahoma)
$5,300.00
5546 (Oklahoma)
$5,200.00
5442 (Oklahoma)
$5,100.00
3357 (Oklahoma)
$5,000.00
5442 (Oklahoma)
$4,900.00
3357 (Oklahoma)
$4,800.00
5442 (Oklahoma)
$4,700.00
5017 (North Carolina)
$4,600.00
5268 (Oklahoma)
$4,500.00
5017 (North Carolina)
$4,400.00
5268 (Oklahoma)
$4,300.00
5579 (Alabama)
$4,200.00
5268 (Oklahoma)
$4,100.00
5579 (Alabama)
$4,000.00
5268 (Oklahoma)
$3,700.00
5048 (Oklahoma)
$3,600.00
5268 (Oklahoma)
$3,500.00
5048 (Oklahoma)
$3,500.00
5268 (Oklahoma)
$3,400.00
5048 (Oklahoma)
$3,300.00
5268 (Oklahoma)
$3,200.00
5062 (Oklahoma)
$3,100.00
5268 (Oklahoma)
$3,000.00
5062 (Oklahoma)
$3,000.00
5268 (Oklahoma)
$2,900.00
5062 (Oklahoma)
$2,800.00
5268 (Oklahoma)
$2,700.00
5611 (Oklahoma)
$2,600.00
5546 (Oklahoma)
$2,500.00
5611 (Oklahoma)
$2,400.00
5062 (Oklahoma)
$2,300.00
5611 (Oklahoma)
$2,200.00
5546 (Oklahoma)
$2,100.00
5268 (Oklahoma)
$2,000.00
5546 (Oklahoma)
$2,000.00
5268 (Oklahoma)
$1,900.00
5546 (Oklahoma)
$1,800.00
5268 (Oklahoma)
$1,700.00
5546 (Oklahoma)
$1,600.00
5268 (Oklahoma)
$1,500.00
5546 (Oklahoma)
$1,400.00
5268 (Oklahoma)
$1,300.00
5546 (Oklahoma)
$1,200.00
5268 (Oklahoma)
$1,100.00
5546 (Oklahoma)
$1,000.00
5268 (Oklahoma)
$950.00
5546 (Oklahoma)
$940.00
5268 (Oklahoma)
$930.00
5546 (Oklahoma)
$920.00
5268 (Oklahoma)
$910.00
5546 (Oklahoma)
$900.00
5268 (Oklahoma)
$870.00
5509 (Oklahoma)
$860.00
5268 (Oklahoma)
$850.00
5509 (Oklahoma)
$840.00
5268 (Oklahoma)
$830.00
5509 (Oklahoma)
$820.00
5268 (Oklahoma)
$810.00
5510 (Kansas)
$800.00
5268 (Oklahoma)
$710.00
5503 (Oklahoma)
$700.00
5268 (Oklahoma)
$610.00
5503 (Oklahoma)
$600.00
5268 (Oklahoma)
$510.00
5478 (Oklahoma)
$500.00
5268 (Oklahoma)
$280.00
5478 (Oklahoma)
$270.00
5268 (Oklahoma)
$260.00
5478 (Oklahoma)
$250.00
5268 (Oklahoma)
$210.00
5478 (Oklahoma)
$200.00
5268 (Oklahoma)
$150.00
5478 (Oklahoma)
$140.00
5268 (Oklahoma)
$130.00
5478 (Oklahoma)
$120.00
5268 (Oklahoma)
$110.00
5478 (Oklahoma)
$100.00
5268 (Oklahoma)
$10.00