Hesston 8400 Swather W/ Newer Model Header (8020) Upgrade
View Full Size Photos
225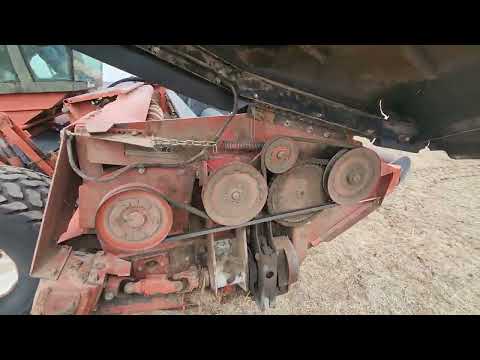 67 bids
A 8% Buyer's Premium will be added to the final Sales Price. All applicable taxes will be assessed based on the sum of the sales price and buyer's premium.
Completed
Hesston 8400 Swather W/ Newer Model Header (8020) Upgrade
Inventory Number: GPA00712
Hesston 8400 Swather
2,076 Hours Showing On Meter
Serial: 840T 00776
Iveco/Fiat 4 Cylinder Engine
Hydrostatic Transmission
AC/Heat AC Will Need To Be Charged
AM/FM/CD Player
Spring Suspension Seat
Torn Seat, But Has Seat Cover
Work Lights
Front Tire Size: 21.5-16.1
Rear Tire SIze: 9.5L-15 5L
Adustable Windrow Chute Width
Field & Road Gears
Header
Model: 8020
16' Cutting Width
Steel Skid Plates
Serial: 8020 00276
Steel Conditioners
Dual Augers
Machine Is Fully Operational And Field Ready, Seller Bought Newer Disc Mower And Planned To Use As Backup, But Never Need it.
Machine Has Set All Winter Without Being Started And Started Right Up WIth No Issues On Day Of Inspection
---
Lot Documents
DISCLAIMER:
Great Plains Auction explicitly disclaims any responsibility or liability for the condition, quality, or any other aspect related to livestock or equipment sold at our auctions. All transactions are conducted at the buyer's own risk, and we encourage thorough inspections before making any purchases. Great Plains Auction acts solely as a platform for buyers and sellers, and any issues or concerns arising from the sale of livestock or equipment are the sole responsibility of the involved parties. Participants are advised to exercise due diligence and make informed decisions during the auction process.
Seller
Edwards Farms
Lawton,
United States
Email:
brian.edwards0964@gmail.com
Bid Increments
| From Amount | Up To | Bid Increment |
| --- | --- | --- |
| --- | $10.00 | $1.00 |
| $10.00 | $100.00 | $5.00 |
| $100.00 | $500.00 | $10.00 |
| $500.00 | $1,000.00 | $25.00 |
| $1,000.00 | $3,000.00 | $50.00 |
| $3,000.00 | $5,000.00 | $75.00 |
| $5,000.00 | $10,000.00 | $100.00 |
| $10,000.00 | $15,000.00 | $150.00 |
| $15,000.00 | $20,000.00 | $200.00 |
| $20,000.00 | $50,000.00 | $250.00 |
| $50,000.00 | $100,000.00 | $500.00 |
| $100,000.00 | $999,999,999,999,999.00 | $1,000.00 |
Bid History
Date/Time
Bidder
Winning Bid
6897 (Oklahoma)
$14,100.00

Top Bid

5775 (Oklahoma)
$13,600.00
6897 (Oklahoma)
$13,600.00
5775 (Oklahoma)
$13,100.00
6897 (Oklahoma)
$12,600.00
5775 (Oklahoma)
$12,500.00
5775 (Oklahoma)
$12,100.00
6897 (Oklahoma)
$11,600.00
5775 (Oklahoma)
$11,100.00
6897 (Oklahoma)
$10,600.00
5775 (Oklahoma)
$10,100.00
5746 (Oklahoma)
$10,000.00
5775 (Oklahoma)
$9,200.00
6897 (Oklahoma)
$9,100.00
5775 (Oklahoma)
$9,000.00
6897 (Oklahoma)
$8,900.00
5775 (Oklahoma)
$8,800.00
6897 (Oklahoma)
$8,700.00
5775 (Oklahoma)
$8,600.00
6897 (Oklahoma)
$8,500.00
5775 (Oklahoma)
$8,400.00
6897 (Oklahoma)
$8,300.00
5738 (Texas)
$8,200.00
6897 (Oklahoma)
$8,100.00
5738 (Texas)
$8,000.00
6897 (Oklahoma)
$7,900.00
5738 (Texas)
$7,800.00
6897 (Oklahoma)
$7,700.00
5122 (Oklahoma)
$7,600.00
5374 (Oklahoma)
$7,500.00
5374 (Oklahoma)
$6,500.00
5122 (Oklahoma)
$6,400.00
5374 (Oklahoma)
$4,300.00
5122 (Oklahoma)
$4,200.00
5374 (Oklahoma)
$4,100.00
5122 (Oklahoma)
$4,000.00
5374 (Oklahoma)
$3,900.00
5122 (Oklahoma)
$3,800.00
5374 (Oklahoma)
$3,700.00
5122 (Oklahoma)
$3,600.00
5374 (Oklahoma)
$3,500.00
5122 (Oklahoma)
$3,400.00
5374 (Oklahoma)
$3,300.00
5122 (Oklahoma)
$3,200.00
5374 (Oklahoma)
$3,100.00
6897 (Oklahoma)
$3,000.00
5738 (Texas)
$3,000.00
6897 (Oklahoma)
$2,800.00
5738 (Texas)
$2,700.00
6897 (Oklahoma)
$2,600.00
5728 (Texas)
$2,500.00
6897 (Oklahoma)
$2,500.00
5728 (Texas)
$2,050.00
6897 (Oklahoma)
$2,000.00
5728 (Texas)
$1,550.00
6897 (Oklahoma)
$1,500.00
5728 (Texas)
$1,250.00
6897 (Oklahoma)
$1,200.00
5728 (Texas)
$1,050.00
6897 (Oklahoma)
$1,000.00
5728 (Texas)
$525.00
6897 (Oklahoma)
$500.00
5728 (Texas)
$130.00
6897 (Oklahoma)
$120.00
5728 (Texas)
$110.00
6897 (Oklahoma)
$100.00
6897 (Oklahoma)
$10.00