Bidding on GPA00752 1956 Chevrolet Bel Air has been disabled due to inventory error.
View Full Size Photos
99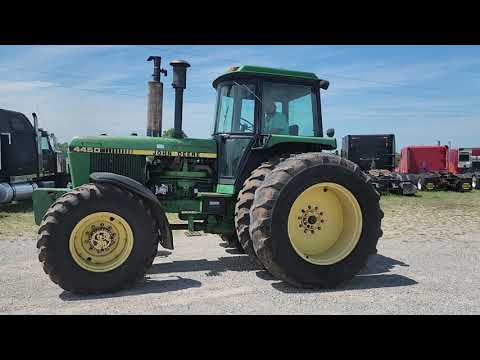 94 bids
A 8% Buyer's Premium will be added to the final Sales Price. All applicable taxes will be assessed based on the sum of the sales price and buyer's premium.
Completed
John Deere 4450 MFWD
Inventory Number: GPA00729
SN: RW4450P020718
1141 Hours Showing
JD Diesel Engine
15 FWD Gears
Reverse
Power shift
2 Rear Hydraulic Remotes
Transport & Work Lighting
Digital Dash
Heat/AC
Oil Pressure & Temp Gauges
3 pt.
540/1000 PTO
20.8-38 Rear Tires Duals
16.9-26 Front Tires
14 Front Suitcase Weights
4 Rear Weights
Mid mount tool box
AM/FM Radio
---
Lot Documents
DISCLAIMER:
Great Plains Auction explicitly disclaims any responsibility or liability for the condition, quality, or any other aspect related to livestock or equipment sold at our auctions. All transactions are conducted at the buyer's own risk, and we encourage thorough inspections before making any purchases. Great Plains Auction acts solely as a platform for buyers and sellers, and any issues or concerns arising from the sale of livestock or equipment are the sole responsibility of the involved parties. Participants are advised to exercise due diligence and make informed decisions during the auction process.
Seller
Kory Huck / Great Plains Auction Representative
Chickasha, Oklahoma 73018
United States
Bid Increments
| From Amount | Up To | Bid Increment |
| --- | --- | --- |
| --- | $1,000.00 | $10.00 |
| $1,000.00 | $10,000.00 | $100.00 |
| $10,000.00 | $50,000.00 | $500.00 |
| $50,000.00 | $9,999,999.00 | $1,000.00 |
Bid History
Date/Time
Bidder
Winning Bid
6999 (Oklahoma)
$30,500.00

Top Bid

6897 (Oklahoma)
$30,000.00
6999 (Oklahoma)
$29,500.00
6897 (Oklahoma)
$29,000.00
6999 (Oklahoma)
$29,000.00
6897 (Oklahoma)
$28,500.00
6999 (Oklahoma)
$28,000.00
6897 (Oklahoma)
$27,500.00
6999 (Oklahoma)
$27,000.00
6897 (Oklahoma)
$26,500.00
6999 (Oklahoma)
$26,000.00
6897 (Oklahoma)
$25,500.00
6999 (Oklahoma)
$25,000.00
6897 (Oklahoma)
$24,500.00
6999 (Oklahoma)
$24,000.00
6897 (Oklahoma)
$23,500.00
6999 (Oklahoma)
$23,000.00
6897 (Oklahoma)
$22,500.00
6999 (Oklahoma)
$22,000.00
6897 (Oklahoma)
$21,500.00
6999 (Oklahoma)
$21,000.00
6897 (Oklahoma)
$20,500.00
6999 (Oklahoma)
$20,000.00
7096 (Oklahoma)
$20,000.00
6999 (Oklahoma)
$19,500.00
7096 (Oklahoma)
$19,000.00
6999 (Oklahoma)
$18,500.00
7096 (Oklahoma)
$18,000.00
6999 (Oklahoma)
$17,500.00
5997 (Kansas)
$17,000.00
6999 (Oklahoma)
$16,500.00
5997 (Kansas)
$16,000.00
6999 (Oklahoma)
$14,500.00
5997 (Kansas)
$14,000.00
5997 (Kansas)
$10,700.00
5070 (Oklahoma)
$10,200.00
5997 (Kansas)
$9,100.00
6897 (Oklahoma)
$9,000.00
6897 (Oklahoma)
$8,100.00
5997 (Kansas)
$8,000.00
6897 (Oklahoma)
$8,000.00
5997 (Kansas)
$7,100.00
6897 (Oklahoma)
$7,000.00
5997 (Kansas)
$6,100.00
6897 (Oklahoma)
$6,000.00
5997 (Kansas)
$5,100.00
6897 (Oklahoma)
$5,000.00
5997 (Kansas)
$2,100.00
6897 (Oklahoma)
$2,000.00
5997 (Kansas)
$1,300.00
6897 (Oklahoma)
$1,200.00
5997 (Kansas)
$1,100.00
5359 (Oklahoma)
$1,000.00
5997 (Kansas)
$610.00
5359 (Oklahoma)
$600.00
5997 (Kansas)
$510.00
5985 (Oklahoma)
$500.00
5997 (Kansas)
$490.00
5985 (Oklahoma)
$480.00
5997 (Kansas)
$470.00
5985 (Oklahoma)
$460.00
5997 (Kansas)
$450.00
5985 (Oklahoma)
$440.00
5997 (Kansas)
$430.00
5985 (Oklahoma)
$420.00
5997 (Kansas)
$410.00
5985 (Oklahoma)
$400.00
5985 (Oklahoma)
$330.00
5984 (Oklahoma)
$320.00
5985 (Oklahoma)
$310.00
5984 (Oklahoma)
$300.00
5985 (Oklahoma)
$300.00
5984 (Oklahoma)
$290.00
5985 (Oklahoma)
$280.00
5984 (Oklahoma)
$270.00
5985 (Oklahoma)
$260.00
5984 (Oklahoma)
$250.00
5985 (Oklahoma)
$240.00
5984 (Oklahoma)
$230.00
5985 (Oklahoma)
$220.00
5984 (Oklahoma)
$210.00
5985 (Oklahoma)
$200.00
5984 (Oklahoma)
$130.00
5985 (Oklahoma)
$120.00
5984 (Oklahoma)
$110.00
5985 (Oklahoma)
$100.00
5984 (Oklahoma)
$90.00
5985 (Oklahoma)
$80.00
5984 (Oklahoma)
$70.00
5985 (Oklahoma)
$60.00
5984 (Oklahoma)
$50.00
5985 (Oklahoma)
$40.00
5985 (Oklahoma)
$20.00
6897 (Oklahoma)
$10.00