2004 Freightliner M2 55Ft. Work Height Insulated Altec AA755 Bucket Truck
View Full Size Photos
243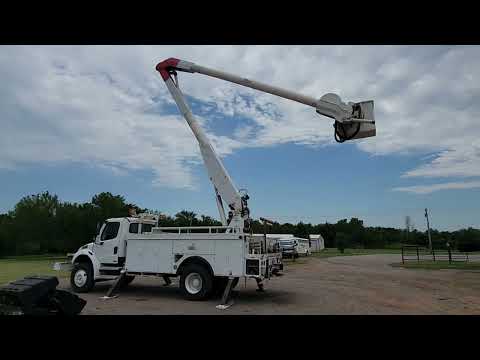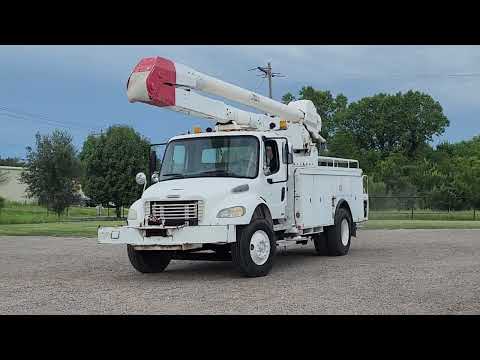 107 bids
A 8% Buyer's Premium will be added to the final Sales Price. All applicable taxes will be assessed based on the sum of the sales price and buyer's premium.
Completed
2004 Freightliner M2 55Ft. Work Height Insulated Altec AA755 Bucket Truck
Inventory Number: GPA00753
Vehicle Details:
Year: 2004
Make: Freightliner
Model: M2
Upfit Trim: 55 Ft. Work Height Insulated ALtec AA755L Bucket
VIN: 1FVACYDC94HN09496
Type: Bucket / Boom
Color: White
Miles: 129,725
Hours: 1,345.6
Engine:
Fuel Type: Diesel
Engine Make: Caterpillar C7 Acert
Transmission:
Transmission Type: Allison Automatic
Tires:
Tire Size: 11R22.5
Load Rating: 146/143L
Features and Equipment:
Upfit Description: Equipped with a 55 Ft. Work Height Insulated ALtec AA755L Bucket, providing a versatile and elevated working platform.
Built-In Winch: The front bumper features a built-in winch, adding utility for various lifting and towing needs.
Outriggers: Stabilizing outriggers enhance safety and stability while the bucket is extended, allowing for secure work at height.
Bed Serial: 097-2282856 05/04 (Serial number and manufacturing date for the bed assembly.)
Altec Boom Serial: 0304BZ2818 (Serial number of the Altec boom assembly.)
Utility and Application: This 2004 Freightliner M2 is tailored for specialized work that requires elevated access and mobility. The insulated bucket offers a remarkable 55-foot work height, allowing for tasks such as maintenance, repairs, and installations at elevated positions. The built-in winch and outriggers provide added versatility and safety during operations.
Performance and Efficiency: Powered by a Caterpillar C7 Acert diesel engine, this Freightliner M2 combines power and efficiency. The automatic transmission streamlines operation and provides smooth gear changes, contributing to overall performance.
Condition and Usage: With a relatively low mileage of 129,725 miles and 1,345.6 hours of operation, this Freightliner M2 is a well-maintained unit suitable for continued service. Its white exterior offers a clean and professional appearance.
Versatility and Reliability: The combination of advanced features, utility enhancements, and reliable engineering makes this Freightliner M2 an excellent asset for industries that require working at heights, such as telecommunications, utility maintenance, and construction.
Title and Ownership: This vehicle comes with a clean title, ensuring a seamless transfer of ownership to its new owner.
For inquiries, further information, or to schedule a viewing, don't hesitate to reach out. Experience the capabilities and versatility of this 2004 Freightliner M2, ready to tackle elevated tasks with ease.
---
Lot Documents
DISCLAIMER:
Great Plains Auction explicitly disclaims any responsibility or liability for the condition, quality, or any other aspect related to livestock or equipment sold at our auctions. All transactions are conducted at the buyer's own risk, and we encourage thorough inspections before making any purchases. Great Plains Auction acts solely as a platform for buyers and sellers, and any issues or concerns arising from the sale of livestock or equipment are the sole responsibility of the involved parties. Participants are advised to exercise due diligence and make informed decisions during the auction process.
Seller
Kory Huck / Great Plains Auction Representative
Lawton, Oklahoma 73507
United States
Bid Increments
| From Amount | Up To | Bid Increment |
| --- | --- | --- |
| --- | $1,000.00 | $10.00 |
| $1,000.00 | $10,000.00 | $100.00 |
| $10,000.00 | $50,000.00 | $500.00 |
| $50,000.00 | $9,999,999.00 | $1,000.00 |
Bid History
Date/Time
Bidder
Winning Bid
6738 (Arkansas)
$10,500.00

Top Bid

6177 (Texas)
$10,000.00
6177 (Texas)
$9,000.00
5812 (Texas)
$8,900.00
6177 (Texas)
$8,800.00
5812 (Texas)
$8,700.00
6177 (Texas)
$8,600.00
5812 (Texas)
$8,500.00
6177 (Texas)
$8,400.00
5812 (Texas)
$8,300.00
6177 (Texas)
$8,200.00
5812 (Texas)
$8,100.00
6177 (Texas)
$8,000.00
5812 (Texas)
$7,900.00
6177 (Texas)
$7,800.00
5812 (Texas)
$7,700.00
6177 (Texas)
$7,600.00
5812 (Texas)
$7,500.00
6177 (Texas)
$7,400.00
5812 (Texas)
$7,300.00
6177 (Texas)
$7,200.00
5812 (Texas)
$7,100.00
6177 (Texas)
$7,000.00
5812 (Texas)
$6,900.00
6177 (Texas)
$6,800.00
5812 (Texas)
$6,700.00
6177 (Texas)
$6,600.00
5812 (Texas)
$6,500.00
6471 (Oklahoma)
$6,400.00
5812 (Texas)
$6,300.00
6471 (Oklahoma)
$6,200.00
5812 (Texas)
$6,100.00
6471 (Oklahoma)
$6,000.00
5812 (Texas)
$6,000.00
6471 (Oklahoma)
$5,900.00
5812 (Texas)
$5,800.00
6471 (Oklahoma)
$5,700.00
5812 (Texas)
$5,600.00
6471 (Oklahoma)
$5,500.00
5024 (Oklahoma)
$5,400.00
6471 (Oklahoma)
$5,300.00
6156 (Oklahoma)
$5,200.00
6471 (Oklahoma)
$5,100.00
6156 (Oklahoma)
$5,000.00
6471 (Oklahoma)
$4,800.00
5016 (Oklahoma)
$4,700.00
6164 (Oklahoma)
$4,600.00
5016 (Oklahoma)
$4,600.00
6164 (Oklahoma)
$4,500.00
5016 (Oklahoma)
$4,400.00
6164 (Oklahoma)
$4,300.00
5016 (Oklahoma)
$4,200.00
6164 (Oklahoma)
$4,100.00
5016 (Oklahoma)
$4,000.00
6164 (Oklahoma)
$3,900.00
5016 (Oklahoma)
$3,800.00
6164 (Oklahoma)
$3,700.00
5016 (Oklahoma)
$3,600.00
6164 (Oklahoma)
$3,500.00
5016 (Oklahoma)
$3,400.00
6164 (Oklahoma)
$3,300.00
5016 (Oklahoma)
$3,200.00
6164 (Oklahoma)
$3,100.00
5016 (Oklahoma)
$3,000.00
5016 (Oklahoma)
$2,200.00
5024 (Oklahoma)
$2,100.00
5016 (Oklahoma)
$2,000.00
5024 (Oklahoma)
$1,900.00
5016 (Oklahoma)
$1,800.00
5062 (Oklahoma)
$1,700.00
5016 (Oklahoma)
$1,600.00
6156 (Oklahoma)
$1,500.00
5016 (Oklahoma)
$1,500.00
6156 (Oklahoma)
$330.00
5016 (Oklahoma)
$320.00
6156 (Oklahoma)
$310.00
6103 (Oklahoma)
$300.00
6156 (Oklahoma)
$290.00
6165 (Chihuahua)
$280.00
6156 (Oklahoma)
$270.00
6103 (Oklahoma)
$260.00
6156 (Oklahoma)
$250.00
6103 (Oklahoma)
$240.00
6156 (Oklahoma)
$230.00
5820 (Oklahoma)
$220.00
6103 (Oklahoma)
$210.00
6030 (Oklahoma)
$200.00
6103 (Oklahoma)
$190.00
6030 (Oklahoma)
$180.00
6103 (Oklahoma)
$170.00
6030 (Oklahoma)
$160.00
6103 (Oklahoma)
$150.00
6030 (Oklahoma)
$140.00
6103 (Oklahoma)
$130.00
6030 (Oklahoma)
$120.00
5919 (Oklahoma)
$110.00
6030 (Oklahoma)
$100.00
5919 (Oklahoma)
$100.00
6030 (Oklahoma)
$90.00
5919 (Oklahoma)
$80.00
6030 (Oklahoma)
$70.00
5919 (Oklahoma)
$60.00
6030 (Oklahoma)
$50.00
5919 (Oklahoma)
$40.00
6030 (Oklahoma)
$30.00
5919 (Oklahoma)
$20.00
6030 (Oklahoma)
$10.00