Reeves In-Line Bale Wrapper
View Full Size Photos
93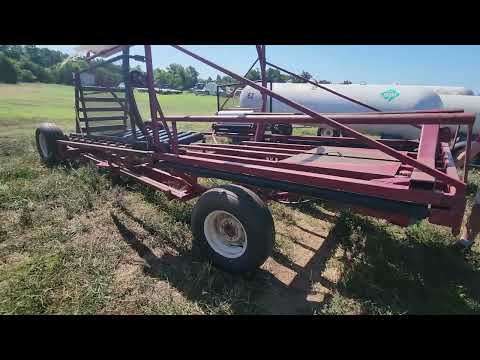 109 bids
A 8% Buyer's Premium will be added to the final Sales Price. All applicable taxes will be assessed based on the sum of the sales price and buyer's premium.
Completed
Reeves In-Line Bale Wrapper
Inventory Number: GPA00764
Equipment Details:
Model: 2552
Serial Number: 0530821998
Engine and Power Source:
Engine Type: Honda Gas Engine
Start Type: Electric Start
Power and Performance: The Honda gas engine provides reliable power for the operation of the bale wrapper.
Hydraulic System:
Hydraulic Functions: Features hydraulic systems for steer, drive, and jack mechanisms.
Hydraulic Oil Reservoir: Equipped with a hydraulic oil reservoir to ensure proper functioning of hydraulic components.
Hitch and Transport:
Hitch Type: Clevis Hitch
Removable Hitch: The hitch can be detached for ease of transportation or storage.
Tires and Mobility:
Tire Size: 11L-15 Tires
Tire Type: Suitable for load-bearing and mobility requirements.
Battery and Start:
Battery Requirement: Requires a battery for electric start. Please note that the battery is not included.
Function and Application: The Reeves In-Line Bale Wrapper, Model 2552, is designed to efficiently wrap bales, contributing to the preservation and storage of agricultural products. Its reliable Honda gas engine with electric start and hydraulic systems for steer, drive, and jack mechanisms ensure smooth and effective operation.
Hydraulic Efficiency: The presence of hydraulic systems enhances the efficiency of the bale wrapper's steering, driving, and jack functions. These features contribute to convenience during setup and operation.
Transport and Storage Convenience:
Clevis Hitch: The clevis hitch allows for secure attachment to towing equipment.
Removable Hitch: The ability to detach the hitch adds to the convenience of transportation and storage.
Tire Performance: The 11L-15 tires provide stability and mobility, enabling the bale wrapper to be moved to various locations as needed.
Battery Consideration:
Battery Requirement: It's important to note that a battery is needed for the electric start function. Potential buyers should consider the need to supply a battery for operational purposes.
The Reeves In-Line Bale Wrapper, Model 2552, is a valuable piece of equipment designed to streamline bale wrapping processes. With its gas engine, hydraulic systems, and user-friendly features, it presents an opportunity for efficient and convenient agricultural operations.
For inquiries, more detailed information, or any specific needs you may have, feel free to reach out.
---
Lot Documents
DISCLAIMER:
Great Plains Auction explicitly disclaims any responsibility or liability for the condition, quality, or any other aspect related to livestock or equipment sold at our auctions. All transactions are conducted at the buyer's own risk, and we encourage thorough inspections before making any purchases. Great Plains Auction acts solely as a platform for buyers and sellers, and any issues or concerns arising from the sale of livestock or equipment are the sole responsibility of the involved parties. Participants are advised to exercise due diligence and make informed decisions during the auction process.
Seller
Kimbell Ranch
Lawton, Oklahoma 73507
United States
Email:
cavenaght@gmail.com
Bid Increments
| From Amount | Up To | Bid Increment |
| --- | --- | --- |
| --- | $1,000.00 | $10.00 |
| $1,000.00 | $10,000.00 | $100.00 |
| $10,000.00 | $50,000.00 | $500.00 |
| $50,000.00 | $9,999,999.00 | $1,000.00 |
Bid History
Date/Time
Bidder
Winning Bid
6897 (Oklahoma)
$5,800.00

Top Bid

5492 (Oklahoma)
$5,700.00
6897 (Oklahoma)
$5,600.00
5492 (Oklahoma)
$5,500.00
6897 (Oklahoma)
$5,400.00
5492 (Oklahoma)
$5,300.00
6897 (Oklahoma)
$5,200.00
5492 (Oklahoma)
$5,100.00
6897 (Oklahoma)
$5,000.00
5492 (Oklahoma)
$4,900.00
6897 (Oklahoma)
$4,800.00
5492 (Oklahoma)
$4,700.00
6897 (Oklahoma)
$4,600.00
5492 (Oklahoma)
$4,500.00
6897 (Oklahoma)
$4,300.00
5492 (Oklahoma)
$4,200.00
6897 (Oklahoma)
$4,100.00
5492 (Oklahoma)
$4,000.00
6897 (Oklahoma)
$3,800.00
5492 (Oklahoma)
$3,700.00
6897 (Oklahoma)
$3,600.00
5492 (Oklahoma)
$3,500.00
6897 (Oklahoma)
$3,400.00
5492 (Oklahoma)
$3,300.00
6897 (Oklahoma)
$3,200.00
5492 (Oklahoma)
$3,100.00
6897 (Oklahoma)
$3,000.00
5492 (Oklahoma)
$2,900.00
6897 (Oklahoma)
$2,800.00
5492 (Oklahoma)
$2,700.00
6897 (Oklahoma)
$2,600.00
5492 (Oklahoma)
$2,500.00
6897 (Oklahoma)
$2,100.00
5492 (Oklahoma)
$2,000.00
6897 (Oklahoma)
$1,800.00
5492 (Oklahoma)
$1,700.00
6897 (Oklahoma)
$1,600.00
5492 (Oklahoma)
$1,500.00
6897 (Oklahoma)
$1,500.00
5492 (Oklahoma)
$1,400.00
6897 (Oklahoma)
$1,300.00
5492 (Oklahoma)
$1,200.00
5399 (Oklahoma)
$1,100.00
5125 (Texas)
$1,000.00
5399 (Oklahoma)
$1,000.00
5125 (Texas)
$710.00
5399 (Oklahoma)
$700.00
5125 (Texas)
$690.00
5399 (Oklahoma)
$680.00
5125 (Texas)
$670.00
5399 (Oklahoma)
$660.00
5125 (Texas)
$650.00
5399 (Oklahoma)
$640.00
5125 (Texas)
$630.00
5399 (Oklahoma)
$620.00
5125 (Texas)
$610.00
5399 (Oklahoma)
$600.00
5125 (Texas)
$590.00
5399 (Oklahoma)
$580.00
5125 (Texas)
$570.00
5399 (Oklahoma)
$560.00
5125 (Texas)
$550.00
5399 (Oklahoma)
$540.00
5125 (Texas)
$530.00
5399 (Oklahoma)
$520.00
5125 (Texas)
$510.00
5399 (Oklahoma)
$500.00
5125 (Texas)
$420.00
5016 (Oklahoma)
$410.00
6141 (Oklahoma)
$400.00
5016 (Oklahoma)
$390.00
6141 (Oklahoma)
$380.00
5016 (Oklahoma)
$370.00
6141 (Oklahoma)
$360.00
5016 (Oklahoma)
$350.00
6141 (Oklahoma)
$350.00
5016 (Oklahoma)
$340.00
6141 (Oklahoma)
$330.00
5016 (Oklahoma)
$320.00
6141 (Oklahoma)
$310.00
5016 (Oklahoma)
$300.00
6141 (Oklahoma)
$290.00
5016 (Oklahoma)
$280.00
6141 (Oklahoma)
$270.00
5016 (Oklahoma)
$260.00
6141 (Oklahoma)
$250.00
5016 (Oklahoma)
$240.00
6141 (Oklahoma)
$230.00
5016 (Oklahoma)
$220.00
6141 (Oklahoma)
$210.00
5016 (Oklahoma)
$200.00
6141 (Oklahoma)
$190.00
5016 (Oklahoma)
$180.00
6141 (Oklahoma)
$170.00
5016 (Oklahoma)
$160.00
6141 (Oklahoma)
$150.00
6141 (Oklahoma)
$140.00
5016 (Oklahoma)
$130.00
6141 (Oklahoma)
$120.00
5016 (Oklahoma)
$110.00
6141 (Oklahoma)
$100.00
5016 (Oklahoma)
$90.00
6141 (Oklahoma)
$80.00
5016 (Oklahoma)
$70.00
6141 (Oklahoma)
$60.00
5062 (Oklahoma)
$50.00
6141 (Oklahoma)
$40.00
5062 (Oklahoma)
$30.00
6141 (Oklahoma)
$20.00