Ford Versatile 846 Designation 6
View Full Size Photos
220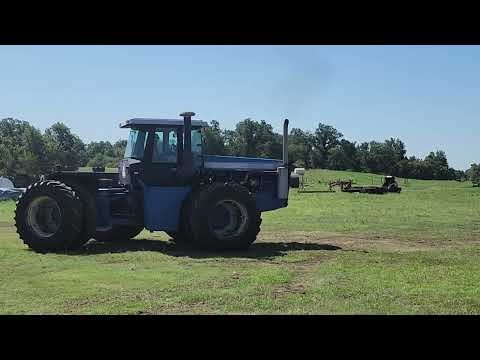 85 bids
A 8% Buyer's Premium will be added to the final Sales Price. All applicable taxes will be assessed based on the sum of the sales price and buyer's premium.
Completed
Ford Versatile 846 Designation 6
Inventory Number: GPA00763
Vehicle Details:
Make: Ford
Model: Versatile 846 Designation 6
Serial Number: D475542
Key Features and Equipment:
Steering System: Equipped with EZ-Steer Auto Steer for enhanced precision during operation.
Monitor: Fitted with a New Holland FM-750 Monitor for efficient monitoring and control.
Climate Control: Heat/AC available, though may require recharging for optimal performance.
Hour Meter: Reading approximately 8,349 hours of operation.
Tires and Wheels:
Tire Size: 460/85r38 Tires for stability and traction on various terrains.
Hydraulic System:
Rear Remotes: Features 4 rear remote hydraulic outlets for enhanced versatility and attachment control.
LED Lights: Added LED lights contribute to visibility and safety during operation.
Engine and Powertrain:
Engine Type: Powered by a Cummins Diesel Engine, known for durability and performance.
Transmission: Offers 12 forward gears and 4 reverse gears, providing flexibility for various tasks.
Draw Bar: Equipped with a draw bar featuring a hammer strap for towing and hauling needs.
Electrical Outlet: Fitted with a 7-pin electrical outlet for connecting and powering compatible equipment.
Exterior and Body:
Roof Damage: Some damage noted to the roof cap, which could affect protection from the elements.
Windshield Wipers: Features both front and rear windshield wipers for improved visibility in various conditions.
Usage and Potential: The Ford Versatile 846 Designation 6 is a robust and versatile agricultural tractor equipped with a range of features designed to enhance efficiency, control, and performance. The inclusion of the EZ-Steer Auto Steer and New Holland FM-750 Monitor indicates a focus on precision and modern technology.
Condition and Considerations:
Climate Control: Note that the Heat/AC system may require recharging to function optimally.
Roof Damage: The mentioned damage to the roof cap might require attention for full protection and functionality.
Utility and Flexibility: With its Cummins Diesel Engine, multiple hydraulic outlets, LED lights, and varied transmission gears, this Ford Versatile 846 Designation 6 is ready to handle a range of agricultural tasks.
Potential buyers are advised to conduct a thorough inspection and consider the noted conditions before making a decision. If you have further questions or need additional information, don't hesitate to reach out.
---
Lot Documents
DISCLAIMER:
Great Plains Auction explicitly disclaims any responsibility or liability for the condition, quality, or any other aspect related to livestock or equipment sold at our auctions. All transactions are conducted at the buyer's own risk, and we encourage thorough inspections before making any purchases. Great Plains Auction acts solely as a platform for buyers and sellers, and any issues or concerns arising from the sale of livestock or equipment are the sole responsibility of the involved parties. Participants are advised to exercise due diligence and make informed decisions during the auction process.
Seller
Kimbell Ranch
Lawton, Oklahoma 73507
United States
Email:
cavenaght@gmail.com
Bid Increments
| From Amount | Up To | Bid Increment |
| --- | --- | --- |
| --- | $1,000.00 | $10.00 |
| $1,000.00 | $10,000.00 | $100.00 |
| $10,000.00 | $50,000.00 | $500.00 |
| $50,000.00 | $9,999,999.00 | $1,000.00 |
Bid History
Date/Time
Bidder
Winning Bid
7586 (Oklahoma)
$17,500.00

Top Bid

5166 (Oklahoma)
$17,000.00
5166 (Oklahoma)
$15,000.00
5016 (Oklahoma)
$14,500.00
5166 (Oklahoma)
$14,000.00
5016 (Oklahoma)
$13,500.00
5166 (Oklahoma)
$13,000.00
5016 (Oklahoma)
$12,500.00
5166 (Oklahoma)
$11,000.00
5016 (Oklahoma)
$10,500.00
5166 (Oklahoma)
$10,000.00
5016 (Oklahoma)
$9,900.00
5166 (Oklahoma)
$9,200.00
5016 (Oklahoma)
$9,100.00
5166 (Oklahoma)
$8,500.00
5016 (Oklahoma)
$8,400.00
5166 (Oklahoma)
$7,700.00
5016 (Oklahoma)
$7,600.00
5016 (Oklahoma)
$6,700.00
5310 (Texas)
$6,600.00
5016 (Oklahoma)
$6,500.00
5310 (Texas)
$6,400.00
5016 (Oklahoma)
$6,300.00
5310 (Texas)
$6,200.00
5016 (Oklahoma)
$6,100.00
5166 (Oklahoma)
$6,000.00
5016 (Oklahoma)
$6,000.00
5166 (Oklahoma)
$4,100.00
5016 (Oklahoma)
$4,000.00
5166 (Oklahoma)
$4,000.00
5016 (Oklahoma)
$3,100.00
5166 (Oklahoma)
$3,000.00
5016 (Oklahoma)
$2,400.00
5166 (Oklahoma)
$2,300.00
5016 (Oklahoma)
$2,200.00
5062 (Oklahoma)
$2,100.00
5016 (Oklahoma)
$1,800.00
5062 (Oklahoma)
$1,700.00
5016 (Oklahoma)
$1,500.00
5062 (Oklahoma)
$1,400.00
5016 (Oklahoma)
$1,300.00
6165 (Chihuahua)
$1,200.00
5016 (Oklahoma)
$1,200.00
6165 (Chihuahua)
$1,100.00
5166 (Oklahoma)
$1,000.00
5166 (Oklahoma)
$590.00
6165 (Chihuahua)
$580.00
5166 (Oklahoma)
$570.00
6165 (Chihuahua)
$560.00
5166 (Oklahoma)
$550.00
6165 (Chihuahua)
$540.00
5166 (Oklahoma)
$530.00
6165 (Chihuahua)
$520.00
5166 (Oklahoma)
$510.00
5312 (Oklahoma)
$500.00
5166 (Oklahoma)
$490.00
5312 (Oklahoma)
$480.00
5166 (Oklahoma)
$470.00
5312 (Oklahoma)
$460.00
5166 (Oklahoma)
$450.00
5312 (Oklahoma)
$440.00
5166 (Oklahoma)
$430.00
5312 (Oklahoma)
$420.00
5166 (Oklahoma)
$410.00
5312 (Oklahoma)
$400.00
5166 (Oklahoma)
$390.00
5312 (Oklahoma)
$380.00
5166 (Oklahoma)
$370.00
5312 (Oklahoma)
$360.00
5166 (Oklahoma)
$350.00
5985 (Oklahoma)
$340.00
5166 (Oklahoma)
$330.00
5985 (Oklahoma)
$320.00
5166 (Oklahoma)
$310.00
5985 (Oklahoma)
$300.00
5166 (Oklahoma)
$290.00
5985 (Oklahoma)
$280.00
5166 (Oklahoma)
$270.00
5985 (Oklahoma)
$260.00
5312 (Oklahoma)
$250.00
5312 (Oklahoma)
$210.00
5985 (Oklahoma)
$200.00
5312 (Oklahoma)
$110.00
5985 (Oklahoma)
$100.00
5312 (Oklahoma)
$10.00