Flying W Inc. Hydraulic Squeeze Chute
View Full Size Photos
164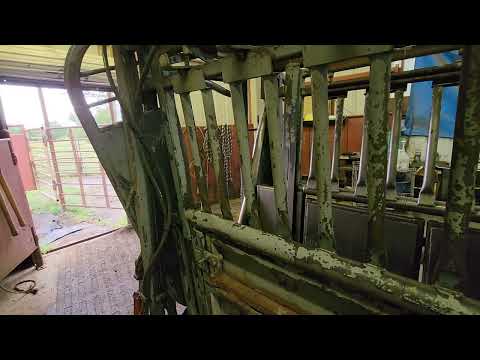 125 bids
A 8% Buyer's Premium will be added to the final Sales Price. All applicable taxes will be assessed based on the sum of the sales price and buyer's premium.
Completed
Flying W Inc. Hydraulic Squeeze Chute
Inventory Number: GPA01333
Chute
Serial: 211877
Model DVM
Palpation Doors
Fold Down Side Slats
Fold Down Bottom Doors
Hydraulic Tilt
Hydraulic Head and Rear Gates
Hydraulic Head Catch
Head Gate Hydraulic Tilt
Floor Pan Folds down
Removable Breast Bar
upper Front Tie Ring
Digital Scales
Hydraulic Pump
Baldor 5 HP
230 volt
1725 RPM
Eaton Hydraulic pump
Model V10 1P5P 1C20
Hydraulic Tank
Hydraulic Filter
---
Lot Documents
DISCLAIMER:
Great Plains Auction explicitly disclaims any responsibility or liability for the condition, quality, or any other aspect related to livestock or equipment sold at our auctions. All transactions are conducted at the buyer's own risk, and we encourage thorough inspections before making any purchases. Great Plains Auction acts solely as a platform for buyers and sellers, and any issues or concerns arising from the sale of livestock or equipment are the sole responsibility of the involved parties. Participants are advised to exercise due diligence and make informed decisions during the auction process.
Seller
Doug Kirkpatrick
Lawton, Oklahoma 73507
United States
Bid Increments
| From Amount | Up To | Bid Increment |
| --- | --- | --- |
| --- | $10.00 | $1.00 |
| $10.00 | $100.00 | $5.00 |
| $100.00 | $500.00 | $10.00 |
| $500.00 | $1,000.00 | $25.00 |
| $1,000.00 | $3,000.00 | $50.00 |
| $3,000.00 | $5,000.00 | $75.00 |
| $5,000.00 | $10,000.00 | $100.00 |
| $10,000.00 | $15,000.00 | $150.00 |
| $15,000.00 | $20,000.00 | $200.00 |
| $20,000.00 | $50,000.00 | $250.00 |
| $50,000.00 | $100,000.00 | $500.00 |
| $100,000.00 | $999,999,999,999,999.00 | $1,000.00 |
Bid History
Date/Time
Bidder
Winning Bid
6223 (Oklahoma)
$20,600.00

Top Bid

6211 (Oklahoma)
$20,350.00
6223 (Oklahoma)
$20,100.00
6211 (Oklahoma)
$19,900.00
6223 (Oklahoma)
$19,700.00
6211 (Oklahoma)
$19,500.00
6223 (Oklahoma)
$19,450.00
6211 (Oklahoma)
$19,250.00
6223 (Oklahoma)
$19,050.00
6211 (Oklahoma)
$18,850.00
6223 (Oklahoma)
$18,650.00
6211 (Oklahoma)
$18,500.00
6211 (Oklahoma)
$18,450.00
6223 (Oklahoma)
$18,250.00
6211 (Oklahoma)
$18,050.00
6223 (Oklahoma)
$17,850.00
6211 (Oklahoma)
$17,650.00
6223 (Oklahoma)
$17,450.00
6211 (Oklahoma)
$17,250.00
6223 (Oklahoma)
$17,050.00
6211 (Oklahoma)
$17,000.00
6211 (Oklahoma)
$16,850.00
6223 (Oklahoma)
$16,650.00
6211 (Oklahoma)
$16,450.00
6223 (Oklahoma)
$16,250.00
6211 (Oklahoma)
$16,050.00
6223 (Oklahoma)
$15,850.00
6211 (Oklahoma)
$15,650.00
6223 (Oklahoma)
$15,450.00
6211 (Oklahoma)
$15,250.00
6223 (Oklahoma)
$15,050.00
6211 (Oklahoma)
$15,000.00
6211 (Oklahoma)
$14,900.00
6223 (Oklahoma)
$14,750.00
6211 (Oklahoma)
$14,600.00
6223 (Oklahoma)
$14,450.00
6211 (Oklahoma)
$14,300.00
6223 (Oklahoma)
$14,150.00
6211 (Oklahoma)
$14,000.00
6223 (Oklahoma)
$13,850.00
6211 (Oklahoma)
$13,700.00
6223 (Oklahoma)
$13,550.00
6211 (Oklahoma)
$13,400.00
6223 (Oklahoma)
$13,250.00
6211 (Oklahoma)
$13,100.00
5646 (Oklahoma)
$13,000.00
5646 (Oklahoma)
$12,950.00
6211 (Oklahoma)
$12,800.00
5646 (Oklahoma)
$12,650.00
6211 (Oklahoma)
$12,500.00
5646 (Oklahoma)
$12,350.00
6211 (Oklahoma)
$12,200.00
5646 (Oklahoma)
$12,050.00
6211 (Oklahoma)
$11,900.00
6211 (Oklahoma)
$11,750.00
6223 (Oklahoma)
$11,600.00
6211 (Oklahoma)
$11,450.00
6223 (Oklahoma)
$11,300.00
6211 (Oklahoma)
$11,150.00
6223 (Oklahoma)
$11,000.00
6250 (Louisiana)
$10,900.00
6223 (Oklahoma)
$10,750.00
6250 (Louisiana)
$10,600.00
6223 (Oklahoma)
$10,450.00
6250 (Louisiana)
$10,300.00
6223 (Oklahoma)
$10,150.00
5646 (Oklahoma)
$10,000.00
6223 (Oklahoma)
$10,000.00
5646 (Oklahoma)
$9,900.00
6223 (Oklahoma)
$9,800.00
5646 (Oklahoma)
$9,700.00
6223 (Oklahoma)
$9,600.00
5646 (Oklahoma)
$9,500.00
6223 (Oklahoma)
$9,400.00
5646 (Oklahoma)
$9,300.00
6217 (Oklahoma)
$9,200.00
6211 (Oklahoma)
$9,100.00
5646 (Oklahoma)
$9,000.00
6211 (Oklahoma)
$8,900.00
5646 (Oklahoma)
$8,800.00
6211 (Oklahoma)
$8,700.00
5646 (Oklahoma)
$8,600.00
6211 (Oklahoma)
$8,500.00
5646 (Oklahoma)
$8,400.00
6211 (Oklahoma)
$8,300.00
5646 (Oklahoma)
$8,200.00
6211 (Oklahoma)
$8,100.00
5646 (Oklahoma)
$8,000.00
6223 (Oklahoma)
$7,900.00
5646 (Oklahoma)
$7,800.00
6211 (Oklahoma)
$7,700.00
5646 (Oklahoma)
$7,600.00
6189 (Texas)
$7,500.00
5646 (Oklahoma)
$7,400.00
6189 (Texas)
$7,300.00
5646 (Oklahoma)
$7,200.00
6189 (Texas)
$7,100.00
6200 (Oklahoma)
$7,000.00
6189 (Texas)
$6,900.00
6200 (Oklahoma)
$6,800.00
6189 (Texas)
$6,700.00
6200 (Oklahoma)
$6,600.00
6189 (Texas)
$6,500.00
6200 (Oklahoma)
$6,400.00
6189 (Texas)
$6,300.00
6200 (Oklahoma)
$6,200.00
6189 (Texas)
$6,100.00
6200 (Oklahoma)
$6,000.00
6189 (Texas)
$5,900.00
6200 (Oklahoma)
$5,800.00
6189 (Texas)
$5,700.00
6200 (Oklahoma)
$5,600.00
6189 (Texas)
$5,500.00
6200 (Oklahoma)
$5,400.00
6189 (Texas)
$5,300.00
6200 (Oklahoma)
$5,200.00
6189 (Texas)
$5,100.00
5369 (Oklahoma)
$5,000.00
5369 (Oklahoma)
$2,650.00
6189 (Texas)
$2,600.00
5369 (Oklahoma)
$2,550.00
6189 (Texas)
$2,500.00
5369 (Oklahoma)
$535.00
5070 (Oklahoma)
$510.00
5369 (Oklahoma)
$100.00