View Full Size Photos
2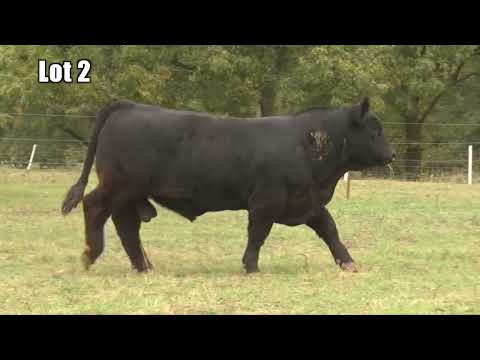 Lot 2
Inventory Number: 960
Sire: MBG Mr. Commander (TJSC Prime {Optimus})
Dam: HOC A Simple Girl A199 (HOC Broker)
D.O.B.: 3-1-22
Ranch Tag: Com2
Pulled solid black Commander son with the beef quality look. A smooth walking, well balanced bull with tremendous length of body. Had an 810lb weaning weight and yearly weight of 1210lbs. This Commander son will create gaining weight performance in your next calf crop.
Health Papers, Semen Test Available when the Bulls are picked up.
Registration ASA papers can be applied to the bulls selling $3500 and up
Pick Up Timeframe: 7 Days After Sale - 11-24-23 Unless arrangements are made with seller
---
Sire:
MBG Mr. Commander Son of TJSC Prime (Optimus)
Dam:
HOC A Simple Girl A199 Sired by HOC Broker
Contact:
Bill McGowan - (580) 264-0136
DISCLAIMER:
Great Plains Auction explicitly disclaims any responsibility or liability for the condition, quality, or any other aspect related to livestock or equipment sold at our auctions. All transactions are conducted at the buyer's own risk, and we encourage thorough inspections before making any purchases. Great Plains Auction acts solely as a platform for buyers and sellers, and any issues or concerns arising from the sale of livestock or equipment are the sole responsibility of the involved parties. Participants are advised to exercise due diligence and make informed decisions during the auction process.
Seller
McGowan's Black Genetics
29250 E 1930 Rd.
Ringling, Oklahoma 73456
United States
Email:
saltcreekretreat@yahoo.com
Bid History
Date/Time
Bidder
Winning Bid
6015 (Tennessee)
$3,450.00

Top Bid

6306 (Oklahoma)
$3,400.00
6177 (Texas)
$3,350.00
6306 (Oklahoma)
$3,350.00
6177 (Texas)
$3,300.00
6306 (Oklahoma)
$3,250.00
6177 (Texas)
$3,200.00
6306 (Oklahoma)
$3,150.00
6306 (Oklahoma)
$3,100.00
6177 (Texas)
$3,050.00
6306 (Oklahoma)
$3,000.00